Hard to believe, sickening and scary but nevertheless true:
Volume I: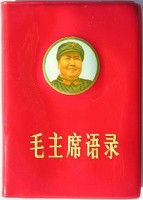 Volume II:
Pocket Obama (paperback, Amazon.com)
According to the editors:

Printed in a size that easily fits into pocket or purse, this book is an anthology of quotations borrowed from Barack Obama's speeches and writings.

POCKET OBAMA serves as a reminder of the amazing power of oratory and the remarkable ability of this man to move people with his words.

His superb and captivating oratory style has earned comparisons to John F. Kennedy and Martin Luther King, and this collection presents words that catapulted his remarkable rise to the American Presidency. Includes themes of democracy, politics, war, terrorism, race, community, jurisprudence, faith, personal responsibility, national identity, and above all, his hoped-for vision of a new America. This book is truly a primer for readers who want to examine the substance of his thought and reflect on the next great chapter in the American story.

It is an unofficial requirement for every citizen to own, to read, and to carry this book at all times
Update:
Just left the following
customer review
on Amazon.com:
"

The Government should make this book mandatory reading in schools



Our Dear Leader brilliance is masterfully condensed in this little blue book. Consider it as a portable fountain of wisdom from which every American should quench his thirst for hope and change every day (and if some refuse to do it, they should be forced).
Long live Obama, great Father of our New Nation, our glorious President for life! "
Go ahead and have fun, post your own reviews!